There is much more to Pittsburgh scenery than the Mt. Washington overlooks. In fact, you can find breathtaking views, art, and architecture all over the city. Beauty can be found in almost every direction. Now that the weather is nice, you can get outside and hunt it down. From Oakland to the North Side, we put together a list of the most spectacular, Instagram-worthy spots in the city.
The Cathedral of Learning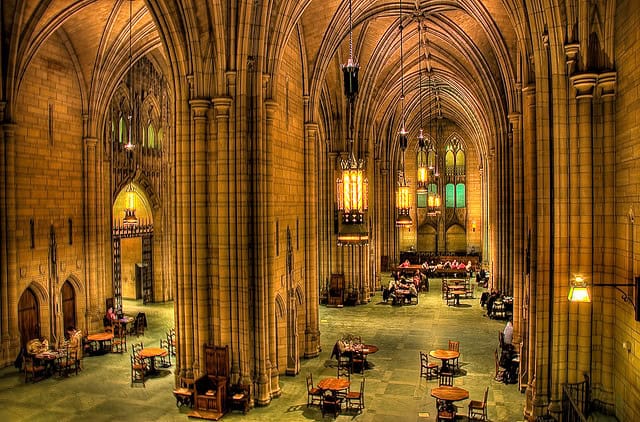 [relevant url="" map="https://www.google.com/maps/place/Cathedral+of+Learning/@40.4548421,-79.94725,15z/data=!4m5!3m4!1s0x8834f228a3e31c8b:0xcb999890de87ffa6!8m2!3d40.4442526!4d-79.953239″]
If you're a Pitt student, alum, or resident of Pittsburgh, you've seen this building towering over Oakland. But if you've never been inside, you're missing out. Especially if you're a Harry Potter fan,because this place is like Hogwarts come to life. Still, that's not even the best part. The view from the top will take your breath away…specially if you take the stairs to the 36th floor. From there, you can gaze out over the city in four different directions, and on a clear day, you can see for miles.
Mexican War Streets
[relevant url="" map="https://www.google.com/maps/place/Mexican+War+Streets,+Pittsburgh,+PA/@40.4570817,-80.0166587,16z/data=!3m1!4b1!4m5!3m4!1s0x8834f408dff50fd5:0xe748d458fa9ce08e!8m2!3d40.4567933!4d-80.0129679″]
Some of the most beautiful streets and most unique houses in all of Pittsburgh can be found in the Central Northside. If you take a walk through the neighborhood, you will find dozens of beautifully restored rowhouses boasting fascinating artwork and elegant architecture. It's like stepping onto the set of an arthouse film designed especially for you. Instead of taking your usual route for a run or a dog-walk, head over to the North Side for a change of scenery. Don't forget your camera, either, because you might just end up featured on Steel City Grammers.
Highland Park Reservoir Loop
[relevant url="" map="https://www.google.com/maps/place/Highland+Park+Reservoir+Path,+Pittsburgh,+PA+15206/@40.4815086,-79.9162848,17z/data=!3m1!4b1!4m5!3m4!1s0x8834ed7ebf2b753f:0x2261073ee401f76d!8m2!3d40.4815086!4d-79.9140908″]
We have plenty of rivers to enjoy, but how often do you get to check out a reservoir? Highland Park boasts a massive one, and the track circling it is a popular spot for joggers and dog-walkers. You might not see it at first, as the park's Entry Garden is pretty spectacular itself. But once you find your way to the tree-lined reservoir, you'll feel a sense of peace. It's a good place to lose yourself in your favorite music or a podcast series while you walk the track and gaze out over the still waters.
Flagstaff Hill
[relevant url="" map="https://www.google.com/maps/place/Flagstaff+Hill,+Pittsburgh,+PA+15213/@40.4399671,-79.9483535,17z/data=!3m1!4b1!4m5!3m4!1s0x8834f220a3f05423:0x66d612536eefcc4f!8m2!3d40.439937!4d-79.9462011″]
No summer is complete without a picnic, and Flagstaff Hill happens to be one of the most iconic picnic spots around. Head to this spot high atop Schenley Park for panoramic views of the Steel City. It's the perfect place to spread out a blanket, share some food, and bask in the sun. Just across the street, you can see the blooms of Phipps Conservatory swaying in the breeze. Plus, a hike in one of our favorite city parks is just steps away. And, with some advance planning, you can follow your day in the sun up with a movie under the stars.
Allegheny Cemetery
[relevant url="" map="https://www.google.com/maps/place/Allegheny+Cemetery/@40.4750162,-79.9595678,17z/data=!3m1!4b1!4m5!3m4!1s0x8834f243f71161dd:0x90e9d345a28663e7!8m2!3d40.4750162!4d-79.9573738″]
When you think of traditionally beautiful places, cemeteries may not be top of mind. But the lush, sprawling Allegheny Cemetery in Lawrenceville might prove otherwise. There's the fascinating history, fantastic stonework, and a massive pair of smiling topless sphinxes guarding a tomb. This place is vast, too, so it's the perfect place for a long walk. There are lots of grassy spots to sit and read, sketch, or take some cool photos. When the path through the cemetery ends, you can continue on, walking onto Butler Street in Lawrenceville for a bite to eat or some more exploring.
PPG Place
[relevant url="" map="https://www.google.com/maps/place/MassMutual+Pittsburgh+Ice+Rink+at+PPG+Place/@40.4397896,-80.0053864,17z/data=!3m1!4b1!4m5!3m4!1s0x8834f15401e12219:0x89800e2a7fc41d57!8m2!3d40.4397896!4d-80.0031924″]
Comprised of six buildings within three city blocks sitting on five and a half acres, PPG Place has been called the 'crown jewel' of Pittsburgh's skyline. Made from 19,750 pieces of glass, the towers reflect the skies, hills, rivers, and buildings of our incredible city. Depending on when you visit, you can enjoy lunch beside the fountain or ice skate around the Christmas tree. But no matter the season when you stop by, you'll certainly be awestruck by your surroundings.
West End Overlook
[relevant url="" map="https://www.google.com/maps/place/West+End-Elliott+Overlook+Park/@40.445656,-80.0359489,17z/data=!3m1!4b1!4m5!3m4!1s0x8834f420bfc759c7:0x8372d618785188c7!8m2!3d40.445656!4d-80.0337549″]
You've seen the view from Mt. Washington, but have you checked out our city from this breathtaking overlook? This Elliot Park spot is one of the most notable in the city, and for good reason. You can finally have a view of the city circled by all three rivers without paying for your own personal helicopter. Getting there at sunset is a good idea, as the sun dipping behind the skyscrapers is a beautiful sight. It's a popular spot for photos, so bring your camera and get ready to gain a new appreciation for the beauty of your city.
Point State Park
[relevant url="" map="https://www.google.com/maps/place/Point+State+Park/@40.4417408,-80.0093846,17z/data=!3m1!4b1!4m5!3m4!1s0x8834f6ab4181b18d:0x3ea8e4063b4c04a0!8m2!3d40.4417408!4d-80.0071906″]
This is almost a no-brainer. Point State Park has everything you could ask for from a city park: great views, riverside trails, vast lawns, and a spectacular way to cool off. Your picnic lunch will taste better at this grand location. The fountain, which is the undeniable centerpiece of the park, has a reach of up to 150 feet, and if you aren't afraid of a little water, you can climb up onto the cement border and catch some spray on a hot day. The riverwalk extending in both directions allows you to get up close and personal with our famous rivers, and the view from just about anywhere is incredible.
Cathedral of Hope
[relevant url="" map="https://www.google.com/maps/place/East+Liberty+Presbyterian+Church/@40.460904,-79.9272577,17z/data=!3m1!4b1!4m5!3m4!1s0x8834f27385ada5d3:0xb1e83f57220990a7!8m2!3d40.460904!4d-79.9250637″]
In the rapidly changing landscape of East Liberty, one thing remains the same: the elegant spires of the Cathedral of Hope pointing toward the sky. The gothic-revival style church was founded nearly 200 years ago, and the gorgeous stained glass and soaring ceilings inside prove that the interior matches the grand exterior. Now an official Pittsburgh Landmark, the Cathedral is host to the ornate stone graves of famed titan Richard Mellon and his wife. There's no denying that this is one of the most beautiful buildings in the city.
Union Station Rotunda
[relevant url="" map="https://www.google.com/maps/place/Pittsburgh+Station/@40.4447589,-79.9943445,17z/data=!3m1!4b1!4m5!3m4!1s0x8834f1589fe2b1bf:0x6dffce30c7354135!8m2!3d40.4447589!4d-79.9921505″]
Your time downtown is probably spent doing yoga in Market Square, hurrying from place to place, or working. Next time you're there, take some time to stop at the historic Union Station Rotunda to gaze up at some beautiful architecture. As one of the most unique, notable places in Pittsburgh, the Rotunda will bring you back to the days of train travel. It sits on the intersection of Grant and Liberty, and it's backed by the majestic Pennsylvanian building. Taking a picture is almost a requirement, and you'll feel awe as you make your way through the wide archways and gaze up at the ornate ceiling.
Carrie Furnace
[relevant url="" map="https://www.google.com/maps/place/Carrie+Furnaces/@40.4110754,-79.9019341,16z/data=!4m8!1m2!2m1!1scarrie+furnace!3m4!1s0x8834ee42249be2a1:0x28be61080fa325eb!8m2!3d40.412973!4d-79.8906908″]
If you want to get up close and personal with the stuff the Steel City is made of, make sure to schedule a tour of the Carrie Furnace. The rusting machinery provides an insightful and realistic glimpse into the city's industrial past. Various artists have added to the scenery with detailed sculptures and colorful graffiti. The famous Carrie Deer, a massive deer's head made of wire and other parts found on scene, is almost indescribable, and is something you just have to see in person. The furnace is only available through a series of tours from May through October, so if you want to see it, you'll have to plan in advance.
Phipps Conservatory
[relevant url="" map="https://www.google.com/maps/place/Phipps+Conservatory+and+Botanical+Gardens/@40.439593,-79.948987,17z/data=!3m1!4b1!4m5!3m4!1s0x8834f189f8429905:0x28a12fe50786460d!8m2!3d40.439593!4d-79.946793″]
Butterflies fluttering around your head. Flowers bursting into full bloom. Twisting glass sculptures hanging just overhead. Sound appealing? You can find all these things at Phipps Conservatory, where you can escape the bustle of the city and disappear into the rainforest without the annoying threat of getting lost. We all like to enjoy summer in the city, but Phipps offers us a chance to explore all kinds of climates right here in our own backyard. The Schenley Lawn just across the street is the perfect place to break for lunch.
Carnegie Music Hall of Oakland
[relevant url="" map="https://www.google.com/maps/place/Carnegie+Music+Hall/@40.4433413,-79.9531882,17z/data=!3m2!4b1!5s0x8834f226f188e875:0xa91352f532470d90!4m5!3m4!1s0x8834f2264401ae89:0xddac5e44ffd33176!8m2!3d40.4433413!4d-79.9509942″]
Next time you stop by the Music Hall to catch one of your favorite bands, make sure to spend some time looking around. The inside of this Oakland venue boasts some top-of-the-line Gilded Age architecture and decoration. It's a fun contrast to knock back a $5 beer before finding your seat while taking in the pillars and ornate ceiling of the hall's lobby. You can pretend you're a Pittsburgh tycoon for a few hours. Since the music hall is adjoined to the museums, you can always pop in for a peek after being impressed by the dinosaurs.
Heinz Memorial Chapel
[relevant url="" map="https://www.google.com/maps/place/Heinz+Memorial+Chapel/@40.4433413,-79.9531882,17z/data=!4m5!3m4!1s0x8834f228a152bd55:0xd0d65f44773b8a1a!8m2!3d40.4452378!4d-79.9519027″]
You can search far and wide, but you'll be hard-pressed to find a place more beautiful than the Heinz Memorial Chapel in Oakland. You simply haven't experienced awe until you gaze up at the soaring ceilings and colorful stained glass windows inside. And, while the church is great for taking amazing photos, it's a place tailor-made for quiet reflection. When the outside world gets too stressful, feel free to come have a seat in the pews and enjoy a moment alone, surrounded by beauty.
This content was provided by a local, independent contributor to Made in PGH, a lifestyle blog.