We all agree, of course, that Pittsburgh is a great place to live. In fact, it has such a hold on its citizens that some of them seem to have stayed behind after death. If you're feeling brave enough, take a tour through some of the city's most haunted areas, but be sure to take some friends – you won't want to do this alone.
Green Man's Tunnel
If you happen to be driving along Piney Fork Road in South Park late at night, keep an eye out for the infamous Green Man. Legend has it that the ghost of an enigmatic man named Charlie No-Face, whose features were melted off in a work accident, wanders the road, his figure shrouded by a strange green light. Unlike many urban legends, however, the story of Green Man's Tunnel has a solid basis in fact: a boy named Raymond Robinson was climbing power lines as a boy when he suffered an electrical injury, giving him the appearance of a person without a face. Whether his spirit lives on and stalks the tunnel is up for debate.
The House the Devil Built
Up in the heart of Pittsburgh's North Side lies the remnants of a house practically bursting at the seams with disturbing folklore. Also known as Congelier House, the place's supposed history earns it a spot among the city's most haunted. Its legacy of horror began with a man named Charles Congelier his wife and their maid, who doubled as his mistress. When Mrs. Congelier found out about the affair, she was none too happy, but her reaction was, perhaps, a bit extreme: she killed the pair with meat cleavers. After this pleasant interlude, a shadowy figure named Dr. Bunrichter was said to have moved in. Like many serial killers, he was quiet, friendly to neighbors and kept to himself — that is, until police discovered that he was trying to keep the decapitated heads of his victims alive after death. If that's not enough, there was a massive explosion at the site, so its status as haunted can't be verified.
13 Bends
The exact location of 13 Bends can't quite be pinpointed. Variations on the legend place it in Elizabeth, Harmarville and even Burgettstown. The most popular version, however, maintains that the road harboring 13 Bends is Campbells Run Road in Harmarville, near the long-since-abandoned Harmar Mine. Supposedly, an orphanage burned down on the site, killing 13 children. Now, if you drive up and down the road, you'll find that you drive around 13 bends going up – but only 12 going down. If the disappearing bend trick isn't enough for you, you can always dust the hood of your car with flour, where it will collect the tiny handprints of the ghost children.
The Early American Room
Link to Map
Most Pittsburghers know that the Cathedral of Learning in Oakland is home to a series of rooms showcasing the styles of a variety of different countries. But did you know that one room in particular, the Early American Room, harbors more than cultural relics? The ghost of Martha Jane Poe, who died in 1936, is said to haunt the room, where her wedding quilt lies on the bed on display. While not particularly rife with ill intent, Mrs. Poe doesn't seem to like being disturbed, and there are reports of coverlets flying off the bed, objects falling from their places, photographs mysteriously cracking and a rocking chair moving on its own. If you'd like to see the room for yourself, tours of the nationality rooms are available.
The Pittsburgh Playhouse
Before it became the esteemed cultural center it is today, the Pittsburgh Playhouse was home to a variety of businesses, some with questionable moral value. Along with a theater, the building housed a brothel, a social hall, and, paradoxically, a church. All this history, of course, led to quite a few urban legends — and ghosts. The cast of haunters includes the Bouncing Red Meanie, a man dressed in red conjured by a group of students attempting a seance in the late '70s, and The Lady in White, who discovered her husband's infidelity on their wedding day and committed suicide. Disembodied crying is attributed to Weeping Eleanor, who perished in a fire. All in all, it's great place to catch a play, but not a place to break out your Ouija board.
Broughton School
South Park seems to be home to a number of unnerving stories, and the closed Broughton School's ghost class might just top the list. The elementary school has been vacated by the living for over a decade, but the spirits of children and teachers alike are said to roam the building, running, shouting and moving objects around. Paranormal investigators who visited the building report capturing chilling voice recordings telling them, alternatively, to "get out of here," and "don't leave." Broughton School was built in 1929, and with such a long history, there are bound to be some stragglers.
Carnegie Library of Homestead
Link to Map
The ghostly aura of one of Pittsburgh's oldest libraries is so well-known that it's featured on an episode of the popular paranormal show Ghost Hunters. But reports on who – or what – haunts the stacks vary widely. Is it founder and industry titan Andrew Carnegie? Is it the millworkers who lost their lives laboring under his empire? Or, perhaps, it's a staff member who couldn't quite part with the job. The Ghost Hunters themselves highlighted the music hall area and, of course, the basement, which once housed a pool. If you want to see for yourself, stop by the library anytime, but you might not be alone for long among the rows of books.
Chatham University
Link to Map
You might be wondering why an entire university made it onto the list. However, Chatham University is so notoriously haunted that the university even holds an annual Ghost Walk to share the history with newcomers. The school is home to a number of distinctive personalities. The Blue Lady of Woodland Hall, who appears to students in a glowing blue dress, is supposedly a previous mental patient who couldn't bear to leave her site of treatment, even after death. Laughlin House is home to a murder-suicide caused by infidelity, and apparitions are regularly reported there. Even Edwin Fickes, namesake of Fickes Hall, has decided to stick around, moving objects in students' dorm rooms.
Frick Mansion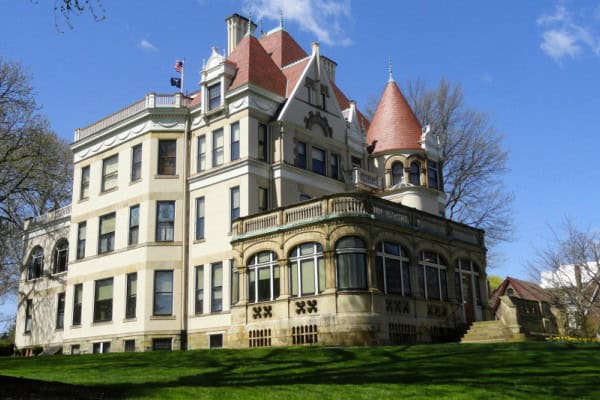 Link to Map
The Fricks really knew how to live, judging by their 23-room East End mansion, but they didn't know how to die. The Frick Mansion, still housing almost all of the family's original furnishings, architecture and interior design, might be home to several entities, including Frick's wife Adelaide and their daughter Helen. In keeping with their upper-crust manners, they are said to be polite spirits, appearing here and there. After all, who wouldn't want to stay on this mortal coil a little longer to keep an eye on their beloved Pittsburgh mansion?
Dead Man's Hollow
Interested in finding a giant, mysterious creature that slithers through the forest, homicidal and perpetually hungry? Head on down to Dead Man's Hollow, a nature preserve just outside McKeesport, and you may be in luck. The 400-acre slice of wilderness along the Youghiogheny River is host to a number of supernatural tales. It's said that suicides, murders and mysterious disappearances have taken place there over the years. In fact, at least one murder can be verified: a man named George McClure was shot to death there in 1880. And, perhaps the eeriest of all, is the story of a man drowned in the river who surfaces only to drag passerby to a watery grave.
Allegheny County Jail
Okay, we don't exactly recommend visiting this one, but even Pittsburgh's county jail boasts its own spectre. Supposedly a prisoner committed suicide in his cell in the early 1900s and remained behind to terrorize his cellmates. Prisoners housed in that area were moved after many of them experienced supernatural activity, and were moved to a different, slightly less unpleasant area. Other tales of hauntings at the jail abound, and whether or not they have a basis in fact, they all have one thing in common: vengeful spirits.